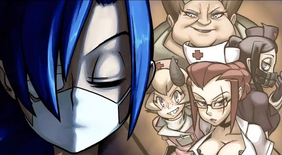 The Last Hope was a group of black-ops Anti-Skullgirl Lab operatives. While there have been many Last Hope squads in the past, the latest team was a team of five operatives, led by Christmas and with Valentine as her second-in-command. Following an attack by Marie, the latest Skullgirl, Valentine remains the only surviving member.
Main article: The Last Hope/Gallery
The featured members of Last Hope (Valentine included) are named after holidays (St. Valentine's Day, St. Patrick's Day, etc...).
Valentine uses the signature weapons of her deceased teammates in addition to her Dead Cross and bonesaw. This includes Christmas's scalpels, Patty's IV polearm, Easter's body bags, and Hallow's syringes. She refers to them as their 'mementos' in Big Band's story mode.
Alex Ahad has stated that Valentine was closest to Hallow during her time in the team. Additionally he has stated that Valentine had a rivalry with Christmas due to her interest in replacing her as team leader.
Christine's design was officially changed in a patch. It changed all the red crosses on her outfit to fuchsia instead. This change was announced on May 2 2014 after the Skullgirls Encore publisher Marvelous AQL couldn't guarantee legal action against a potential copyright claim regarding similarity to the Red Cross' emblem.
It was implied that Nurse Christmas and Brain Drain had a romantic relationship in an unused Valentine ending wherein he blames Valentine for the death of Christmas.
Ad blocker interference detected!
Wikia is a free-to-use site that makes money from advertising. We have a modified experience for viewers using ad blockers

Wikia is not accessible if you've made further modifications. Remove the custom ad blocker rule(s) and the page will load as expected.