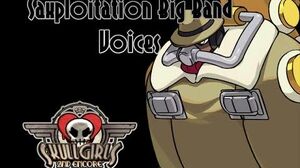 Being Selected
Edit
Pre-round Introduction
Edit
Sometimes you gotta put the "harm" back in "harmony."
It's "Big Band..." the "D" is silent.
Big Band's my name... and layin' licks is my game.
Mess with the yobo, you gots t'go.
Big Band don't "watataaah" to the "shamaca", 'cause that's a "comacomalipachah", dig?
I'm gon' git'cha, sucka!
Girl... that is one wicked Jehri Curl. (vs Filia)
You musta' had the whole bottle of Soul Glo. (vs Filia)
Y'know... you got this fantasy in your head about getting out of a life. (vs. Cerebella)
Hey, little troublemaker. (vs. Peacock)
Baby... I'mma assign yo' pity on the runnin' kind. (vs Parasoul)
Who's this beef jerky-lookin' cat? (vs Ms. Fortune)
This 'bout to be a battle... but you already is one. (vs Painwheel)
Ooooh-weeee! This pigeon built like a brick house! (vs Valentine)
This yard dog drippin' all over my scene. (vs Double)
This jive turkey thinkin' he can be the real article?! (vs Big Band)
You little in the middle... but you got much back. (vs Squigly)
I'mma huff... and puff... and blow yo' house down! (vs Beowulf)
I ain't never heard of a junkyard cat. (vs Robo-Fortune)
Armstrong! (c.HP)
Right on (j. MK)
Get busy. (j. MK)
Am I the meanest? ( Ground Throw)
Am I the prettiest? (Ground Throw)
Downtown! (Brass Knuckles)
Put yo' hands together! (Cymbal Clash)
Make it clap! (Cymbal Clash)
Brick House! (Take The 'A' Train)
Take the soul train! (after successful heavy Take The 'A' Train)
Give 'em the brass! (Strike Up The Band)
You done funked up now! (Strike Up The Band)
Time to beat that hide! (Tympany Drive)
Tympany Jive! (Tympany Drive)
Damn, that's funky! (Death Toll)
You in trouble now, sucka! (Death Toll)
Whoop-ass! (Super Sonic Jazz)
Switching/Tagging
Edit
Dyn-o-mite! (Switching in)
Cartoons Plural! (Switching in w/ Peacock)
Dirty D! (Tagging in Double)
Step off, square! (Outtake)
Ain't havin' none o'that! (Outtake)
Outta sight. (Outtake)
Yo' turn, Jack! (Tagging in Beowulf)
Rat soup eatin'... (Ground recovery)
Cuttin' the rug! (Ground recovery)
That's on time. (Ground recovery)
Hush, now. (Opponent recovery)
Hush, child. (Opponent recovery)
Crank that artichoke! (Opponent recovery)
You off tone. (Opponent recovery)
Bow, sucka! (Opponent recovery)
Guess I won't be hangin' up this high hat anytime soon.
Brass to the face puts a fool in their place.
You shoulda known I got the black belt in baritones.
Get outta here 'fo I whup yo' ass again.
Take a hike, cool breeze.
Hair's like a woman; you treat it good, and it treat you good. (vs. Filia)
You might be the princess, but I'm the king, sista. (vs. Parasoul)
A soldier can never think by his heart, ma'am. He gotta think by the book. (vs. Parasoul)
Thought you could beat me? Ninja, please. (vs Valentine)
You a baaaaad mammajama! (vs. Painwheel)
I got 99 problems and a lich ain't one. (vs Squigly)
Too funky for myself. (vs Big Band)
Jive-ass dude ain't got no brains anyhow. (vs Beowulf)
You really laid some iron in this show, Jack. (vs Beowulf)
Show's over... Cleopatra Bones. (vs. Eliza)
Damn, girl, you must got the Devil in you. (vs. Double)
This canary's got my joints jumpin'! (vs. Squigly)
Ain't hearin' it.
The Grim Reaper...
Cut me some slack! (vs. Painwheel)
Got you actin' a fool out here. (Time-out loss)
Play me off that slow, slow beat. (Time-out loss)
References
Edit
Saxploitation Big Band's rhyming couplets (e.g. "Brass to the face puts a fool in their place") are a reference to the character, Bullhorn, from the 2009 movie, "Black Dynamite", who speaks in rhyming couplets nearly all the time.
"I'm gon' git'cha sucka!" is a reference to the 1988 blaxploitation movie, "I'm Gonna Get You Sucka".
"Am I the meanest?" and "Am I the prettiest?" are references to the character, Sho'nuff, from the 1985 movie, "The Last Dragon".
"You a baaaaad mamma jama!" is a reference to the song "She's a Bad Mamma Jama" by Carl Carlton.
"I got 99 problems and a lich ain't one" is a reference to the song "99 Problems" by Jay-Z.
"Ooooh-weeee! This pigeon built like a brick house!" is a reference to the song "Brick House" by The Commodores.
"Dyn-o-mite!" is the prominent catch phrase used by James "J.J" Evans Jr. in the 70's sitcom Good Times.
"Cartoons Plural!" is the name of one of the characters in Key & Peele's "East-West Bowl" sketch.
"Crank that artichoke" is the name of rapper Sgt. Gutter's hit single in the animated TV series The Boondocks.
Ad blocker interference detected!
Wikia is a free-to-use site that makes money from advertising. We have a modified experience for viewers using ad blockers

Wikia is not accessible if you've made further modifications. Remove the custom ad blocker rule(s) and the page will load as expected.