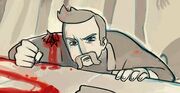 Roberto Contiello is the father of Sienna "Squigly" Contiello. He has a brief appearence in Squigly's story.
He makes a single appearence in Squigly's story in which he is obviously dying, telling Leviathan to keep everyone away from Squigly, even him. 
In the picture to the right, he has a bloody hole in his arm and a trail of blood leading from him. Since we already know that he was Leviathan's previous host, that the host dies when the parasite disconnects, and Leviathan keeps Squigly "Alive", that he sacrificed himself to bring Squigly back to life.
Ad blocker interference detected!
Wikia is a free-to-use site that makes money from advertising. We have a modified experience for viewers using ad blockers

Wikia is not accessible if you've made further modifications. Remove the custom ad blocker rule(s) and the page will load as expected.