River King Casino
Comments

10
282pages on
this wiki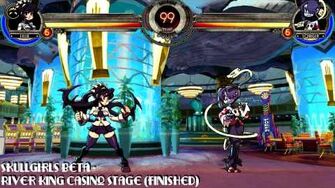 River King Casino
is a stage in
Skullgirls Encore
. Taking place in the heart of New Meridian's River King Casino, the decor consists of slot machines, blackjack tables, and a host of gamblers looking to win big. The casino is a
Medici Mafia
hangout and many members can be found there.
River King Casino appears in Squigly's story mode, and is unlocked by default for use in multiplayer and training. The stage also appears in Big Band's story mode.
Description
Being one of the biggest and brightest buildings in New Meridian, it's only fair that the River King Casino's interior be decorated to match. The spacious gambling floor houses not only blackjack and slots, but a large octopus-shaped water fountain, glass tubes through which Dagonians swim, and a massive revolving aquarium that spans the entire breadth of the stage.
NPC Characters
The fully animated NPCs that appear in the background are submitted by Skullgirls Indigogo backers who donated at least $1,000 USD to the campaign. They appear in six different sets and the set chosen is rotated every time the stage is selected. The NPCs on stage also always remain in the same place. All NPCs excluding Beatrix are original non-Skullgirls related characters.
Altogether the NPCs that appear on this stage make up half of the total NPCs submitted for the game. The other NPCs can be found on the Glass Canopy stage.
The following displays a list detailing the various NPC's, being ordered by the set number from left to right of the stage:

Set 1
Zwain (submitted by Dustin McKenzie)
Jeff (submitted by ???)
Deadeye (submitted by ???)
??? (submitted by ???)
Yuka (submitted by ZFerolie)
??? (submitted by ???)

Set 2
Dash (submitted by TJGamer)
MegamanDS (as himself)
Joy and ??? (submitted by ???)
??? (submitted by ???)
evilben (as himself)
Laty (submitted by CoMat0s3)
Yuzuriha from Under Night: In-Birth (submitted by French Bread)

Set 3
Cocona (submitted by ???)
Cupcake-Tan (submitted by Dan Kim)
??? (submitted by ???)
Trades (submitted by shouhda)
Queen of Beers (submitted by ???)
Kevin (submitted by ???)
The Enforcer (submitted by Dem Mahom)

Set 4
Matt and Woolie (as themselves)
KAWIIKOCHANS (submitted by David Cabrera)
Siva (submitted by BrandX)
??? (submitted by ???)
Beatrix (requested by ???)
Benny (submitted by ???)

Set 5
Lavernius (submitted by Dem Mahom)
??? (submitted by ???)
Krishna (submitted by ???)
??? (submitted by ???)
Justin Johnston (as himself)
Two dogs dressed as Chun-Li and Gulie from the Street Fighter series (submitted by Billybones)

Set 6
Lone Wolf (submitted by RurouniLoneWolf)
Haze (submitted by Smilax)
Cap (submitted by Boxerhockey)
??? (submitted by ???)
Lyou (submitted by Buri)
Claude and Mindy (submitted by Dem Mahom)
Gallery
Trivia
The River King Casino can be seen at a distance in the Streets of New Meridian and Medici Tower stages.
River King Casino houses half of the original characters promised to backers who donated more than $1,000 during the Keep Skullgirls Growing! fundraising campaign. The remaining half appear in the Glass Canopy stage.
Riccardo and Lawrence appear in the background, once again harassing Minette. Additionally Vitale and Ottomo appear watching the fight from a balcony.
Cupcake-tan strikingly resembles Madoka Kaname from Puella Magi Madoka Magica.