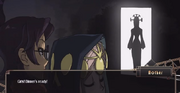 Very little is currently known about her, she hasn't even made a physical appearance nor has she been given a name, she is simply referred to as "mother" by Aeon and Venus. Her shadowy appearance has been shown on the wall on her daughters room while they were playing Skullgirls, she informs the two that dinner is ready. She tells them to stop playing their video games and to come down to eat before their dinner gets cold. Aeon then asks to give them a second so that she could save her game.
Eliza's Story Mode implies that she was once a queen named Lamia, of whom Double is a shadow of.
Main article: Mother/Gallery
She is most likely the leader of the Trinity as she is seen in the middle of the stained glass of the Divine Trinity's Grand Cathedral.
Mother's body figure slightly resembles Queen Nancy, although it is unknown if the two are connected in any way.
Ad blocker interference detected!
Wikia is a free-to-use site that makes money from advertising. We have a modified experience for viewers using ad blockers

Wikia is not accessible if you've made further modifications. Remove the custom ad blocker rule(s) and the page will load as expected.