"Welcome to Lab Zero Games.
Forward-thinking and retro-minded, Lab Zero Games is an independent game development studio founded by the original team that brought you Skullgirls. Lab Zero intends to continue its critically acclaimed work on Skullgirls as well as leverage its unique design and artistic sensibilities to develop new games."
Lab Zero Games is the developer team behind Skullgirls. The main staff consists of: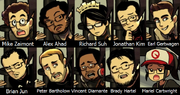 External Links
Edit
Ad blocker interference detected!
Wikia is a free-to-use site that makes money from advertising. We have a modified experience for viewers using ad blockers

Wikia is not accessible if you've made further modifications. Remove the custom ad blocker rule(s) and the page will load as expected.