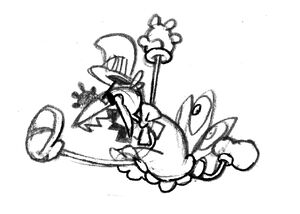 Avery is the small blue bird with fangs that mostly lives in Peacock's hat. He is dressed like Peacock and has eyes that masquerade as his tail feathers.
When Peacock kicks her hat, Avery will come out and slash at his opponents with his 2 knives.
When Peacock drops the rare steamroller on his enemy, Avery will do the "WRYYY!" and smash on the steamroller until it breaks.
Avery is also the one who can help Peacock pull off her "Argus Agony" super by manning the control panels for the attack.
He is named after the famous cartoon maker Tex Avery.